Edit: I know, it seems a crime that I somehow left dear Matty Matty off the list. I guess it was my way of coping since my DreamGuy-Next-Door went off and got married; dashing all my hopes and desires. Not mentioning him must have been my coping mechanism at work. But I cannot deny that Matty Matty had a big year. He tops off the Bourne Trilogy in a critical and box office burst of acceptance. He gets to smooch with Ellen Barkin in Oceans 13 (The nose plays!) And then he is crowned Sexiest Man Alive. And all the while he maintains that sense of humor of his that I absolutely adore. I don't know where I on my list he falls... but he certainly deserves mention. Go with your bad self Matty!!!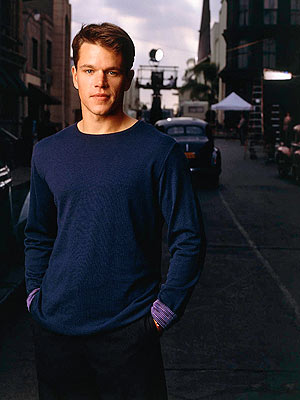 I've been recently caught up with all various retrospective lists that always pop up at years end and I've decided to compile a few lists of my own. But I find the trouble with these lists is, I have a damn lousy memory! Everything in the "top" is quite likely from the last 3 months!..
hahahaha
. So I guess this may just be the Top 5 from the last quarter of the year.... let us see what happens shall we?
Top 5 Hunky Crushes of 2007:
5)
Viggo
Mortensen
: Not actually "my type",
but I admit there is a certain stillness about him that is appealing. Not to mention, he's
a kick ass actor who gets to kick ass completely nude in
Eastern
Promises
.
Viggo
makes the Top 5 mainly because I got to see his twig n berries. But also because I
rewatched
The Two Towers over Christmas and
Aragorn
is really growing on me.
4)
Justin

Timberlake
: Sure, I talk about him too much as it is. I was going to just allot him honorable mention; but his priceless D!ck in the Box earns him a slot. Plus he won an Emmy®!
3)
Tony

Leung

Chiu

Wai
: Okay, I got to see his berries too; but he makes the list because with his work in
Lust, Caution
, Tony cements his place in the acting world. As the NY Times so aptly put it, "Mr. Leung doesn't do much talking: he looks, he conquers." He is just as brave(if not more so) as any "western" actor out there (
Viggo
, Daniel Day-Lewis, Ed Norton, Philip Seymour Hoffman). Anyone who appreciates good acting should be digging into his work.
2)
Brad Pitt
: Brad, Brad, Brad. He should just be given Hall of Fame status. But he makes it on the list for his tireless work in NOLA and for starring in a relatively well-received
arthouse

western
with the longest name ever!
Before I bring you #1, I have to list 2 honorable mentions..
George
Clooney
- As the girls from
SATC
say, "
Clooney's
like a Chanel suit, he never goes out of style." Here, here. Oceans 13 was a disappointment, but he balanced it out with Michael Clayton.
Eric
Bana
: My hot red-carpet hunk of 2006.
Ok
,
Lucky You
sucked at the box office this May, but isn't he adorable? Plus he just won Best Actor nods at the Australian "Oscars". Watch for him next year as the baddie Nero in J.J. Abrams' Star Trek. He just may make next years list!
And *
drumroll
*... my number ONE Hunky Crush of 2007?
1)David
Beckham
: BECKS! In the looks department, there really doesn't need to be anything said is there? But this Greek God landing on California ground cements his standing as #1. I mean, my goodness! The press coverage! And I thought no one cared about soccer!
He arrives, plays a little soccer for $250 million, and promptly injures himself. Kind of a wanker
maneuver
I must admit. But he makes up for it by posing for
uber
hot photo spread in W magazine with his wife.
He also captures the other end of his fan base by landing a Disney shot. This is the only G-rated photo of him I can hang at work.
Then, before the year is out, he signs a 3-year deal to be the spokesmodel for Armani Underwear! And Voila! I mean, seriously. WHAT THE HELL???! Ladies, whatever he's selling, I'll take two! (Unfortunately, I cannot hang this picture at work.)
And despite the fact that his wife Posh is ten kinds of crazy, he loves her. And gets totally steamy for her. That's absolutely hot. And that makes him my Hunky Crush of 2007.