I am still smarting from having to watch the Golden Globes 2015 on YouTube(WTF Hong Kong cable!?) but I have seen enough to make some fashion calls.
There was so much to digest this year! Some yowza yowza moments and for sure a few Are-You-Fucking-Kidding-Me dresses. Shall we dive in?
There were a lot of Huh? I don't get it? from me.
Oh Kiera Knightly, what a waste of Chanel couture. I don't get the Little House on the Prairie pinafore ruffles, I don't get the milkmaid hairstyle that accentuates the American Gothic vibe, I don't get the matching butterfly clutch. Are you still in the unsure I-Don't-Know-How-I-Feel-About-My-Body phase of your pregnancy? Girl, OWN IT. I know Karl is a genius, but he's also a freak. Don't listen to him.
I don't think even Keira gets her dress.
I hated this Valentino dress on the runway. I hate this Valentino dress on Claire Danes.
Raising awareness for Cossacks everywhere.
But unfortunately, the worst dressed torch will be handed to Cool Girl herself. I was horrified by this Vera Wang monstrosity. Rosamund Pike is so gorgeous and I know she just had a baby 5 weeks ago but this dress hits her in ALL the WRONG places. This dress is beyond just a bad print, it does her negative justice. She doesn't even know how she's supposed to pose in it. She's in shellshock for goodness sake!
Gone Girl... no really, this dress needs to be Gone.
Ugh. I hated doing that. Let's switch to the good stuff!
And when we talk about good stuff, we need to talk about Jared Leto's man braid. Helloooooo, who else can rock a white tux with black lapels? With a full beard and man braid. It cannot be done they say!! But Jared just showed you how. And I think he can show you how to speak some french too.
He's giving you everything.



I don't think anyone could argue that Kate Hudson was an absolute knockout at the Globes. Even Jennifer Aniston had to play grabass with her. The Versace Atelier dress is poured on her, its perfect. I think the her hair and makeup is a little harsh, but that's nitpicking.
The Elf ears throw me off a bit.
Lots of gorgeous dresses. But hark! What have we here?? Trousers!!
Alber Elbaz warms my heart with this custom look for miss Emma Stone. Just the sparkle bustier and trousers alone would've been beautiful, but add the bustle and it's O-VAH! This gal has great fashion instincts. The easy hair, the makeup... WINNER!
Winner, Winner Chicken Dinner.



As a last thought to tide us over to the next awards... Is it me or should I be doing a separate list just for the men?? Matt Bomer. Go on with your bad self in Ralph Laurent Black Label. Love the blue to go with this eyes.

This is just too much. I can't handle the hotness.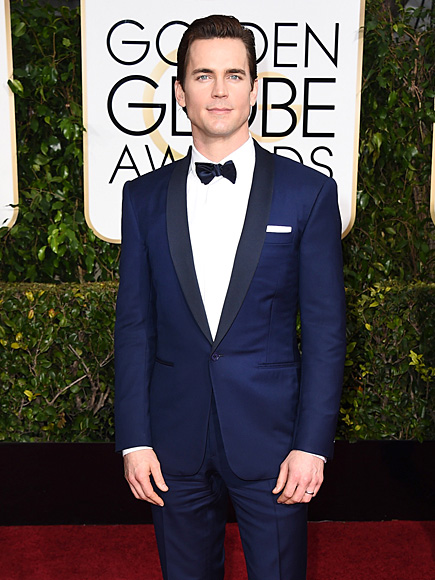 I. Just.Can't.
And I am just going to end all my posts from now on with a Benedict Cumberbatch photo.
He completes me...