So at some point in the Blogosphere/Fashion World, the Costume Institute Gala became the IT party of the year.. Perhaps it was the years following 9/11 when New York really wanted to celebrate again? Perhaps it took Anna Wintour to finally exclaim, "This party counts!" for everyone to fall in line?
Whatever the case, this is the East Coast Superbowl for Fashionistas. Los Angeles may have the Oscars but the Met Gala has serious Fashion clout.
This years theme, "
Charles James: Beyond Fashion
" was likely a harder concept for the Selena Gomez Set to grasp then last year's
Punk: Chaos to Couture
, along with the invitation stating White Tie and Decorations for the men. (White tie meaning full evening dress, put on your Top Hat and Tails gentlemen~!)
I don't think a number of the guests took this advice, or perhaps even bothered to understand it; hence, all the fashion "rebels". But seriously, rebels? Or maybe they confused last year's theme with this years? Or just kind of tired of the fashion grind?
Case in point: Michelle Williams, I get it. You live in Brooklyn. It's a school night. I, too, would be like.. ho hum, let me just show up for the party and call it day. I will give you a pass in your cute, but underwhelming, Louis Vuitton.
"I'd much rather be home in bed in my jammies."
Seriously Stella... WTF? This is not a place for you to debut your Adidas A/W collaboration! This is a GALA! I know you and Cara are rebels but give me a break.
"Wanna go to the gym after this?"
There was a lot of freaky deaky shit Monday night.
Lupita I think without question takes home the worst. Really? You're going to argue with me on this? She is gorgeous. But the purple hair, the afro-puff, the headband, the matchy-matchy clutch and shoes, the tasseled dolphin net.. It just makes me want to cry.
Pocahantas called. Even she doesn't want her dress back.
Runner-up: Elizabeth Olsen. The bad makeup, the Nancy Kerrigan silhouette, the random ruching on the tummy(which she is clearly trying to wish away), the sheer neckline, the sleeve thing attachment, and the mismatched accessories are all a disaster. I can't look anymore and it looks like Elizabeth doesn't want to look anymore either. I hope she told Miu Miu to go f&ck themselves. (Note again, this is a BALL! Not a Friday night at the rink!)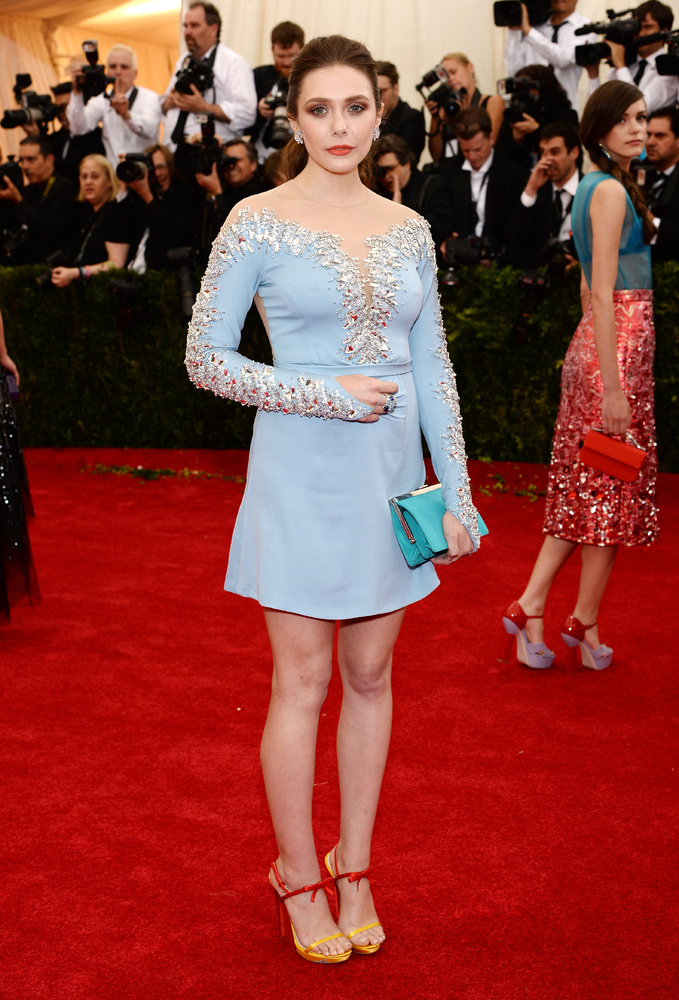 "What do you mean it's not All Skate?"
Okay, I can't take it anymore. Let's talk about the good to great?
Thank you SJP for respecting the fashion. I love Oscar's red signature on the windowpane train. I love the hair, the gloves; it all works together. And oh yeah, I loved you in Square Pegs.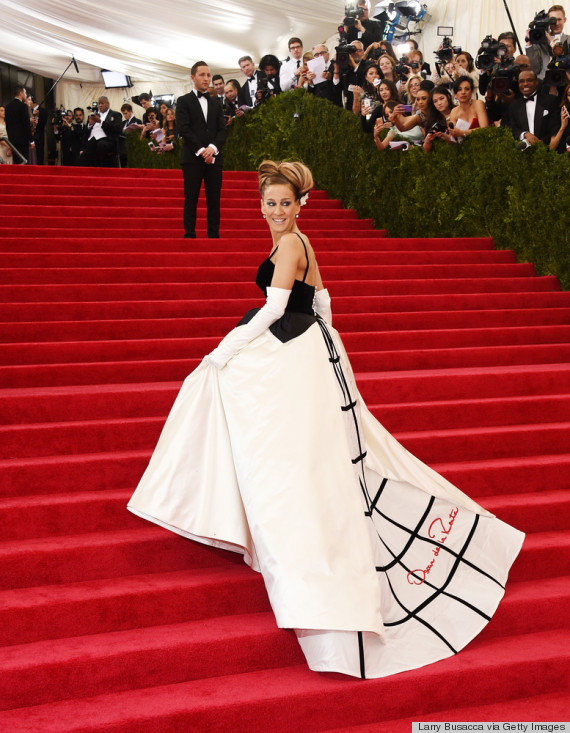 Bow down..
Overall, I wasn't really impressed. But the few looks I enjoyed were really the couples. After all, a hot man in a tuxedo is the best accessory, n'est pas?
Fine, whatever, her dress was minimalist to the max. But when you've got David Beckham staring at you adoringly like that, you're doing something right.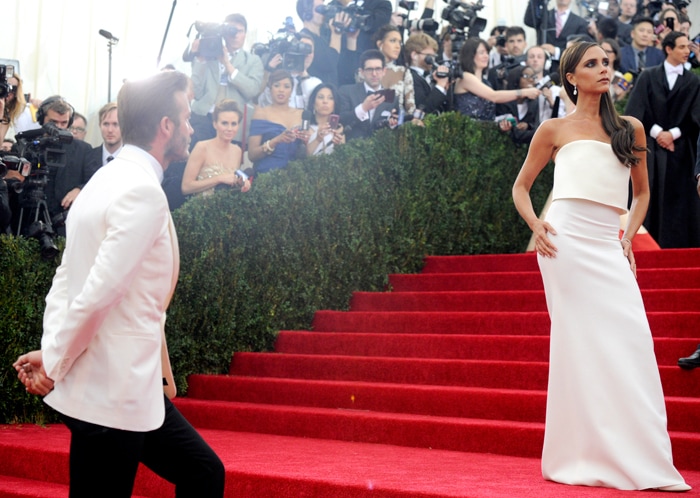 I am going to catch such hell for mentioning KimYe but being as objective as I can, Alber Elbaz did them a solid. His tails are perfectly fit and she really does look beautiful. Usually I find the Us Weekly hyperbole to be just too much to bear; but she really does look amazing. The blue is lovely on her and it is a wonderfully flattering fit for her body type, and hello?? Pockets! She switched into more understated accessories and it works. Her glossy hair is glamourous and the makeup perfect. I was ready to hate her, but I just can't.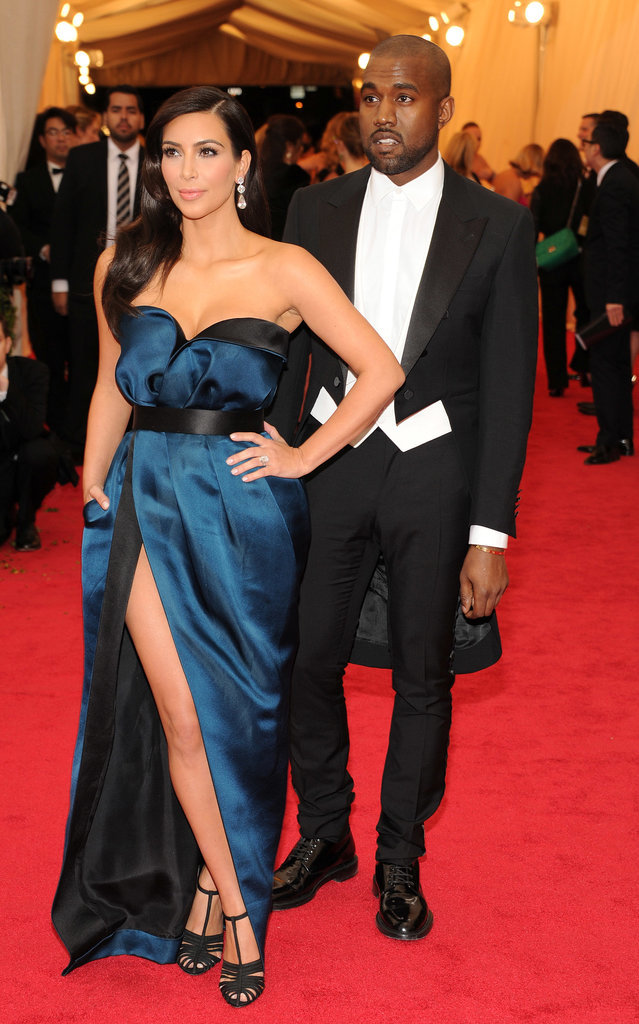 Adhering to dress code.. man, they really are going for Teacher's Pet!



My best dressed pick may also prove controversial, but I am going with Blake Likely as Goddess of hte Night. Her custom Gucci Premiere gown was poured onto her. The hair and makeup are flawless. And she gives us some pop with the red jewelry. But what vaults her look to the top is her husband's hand on her butt in just about every picture. Who's to say how long the shelf life these two have, they are gorgeous and happy right now!



Giving you Glamazon in a big way.
Blake loves the way she looks, and so does Ryan.