No. Your eyes do not deceive you. I haven't posted to this site since the
LAST
awards season! Oh well, we march on. Just roll with it.
I always need a little time to digest the Red Carpet fashion. Some looks I don't like initially have grown on me, and vice versa. But it doesn't happen often; more often than not that first visceral shock thru my system stays true.
First up, let's discuss the Awards Season IT girl this year, Lupita Nyong'o. She was clearly winning the fashion pack with her amazing, bold gowns and impeccable makeup. And hello?! She is naturally just a gorgeous gal!
Lupita rocked an amazing Gucci number to the SAGs. An amazing color with no jewelry to distract from the amazing floral neckline. I loved it.
And one of my favorites was this gorgeous Stella McCartney at the Producers Guild of America Awards! Really quite flawless.
Which is why I am coming out against the tide and say I was disappointed in this Oscar look.
Why play it so safe?? It's not bad per se. But the deep plunge just left me focusing on her ribcage, the color is just too "pretty" and I found the headband cloying. Where was bold Lupita? Where was taking fashion risks and kill it Lupita?
I get the "Cinderella" princess theme, but does it have to be so literal?
Ok, have I polarized anyone yet? I'm just getting started!!!
Cate Blanchett is a Red Carpet goddess. She is never afraid to go with a little edge and take risks. And she pulls it off with such effortless grace! It never has that Tilda Swinton "oh my god, she's so avant-garde" vibe.
Cate's BAFTA look was a favorite of mine from awards season. Effortless Alexander McQueen and then bam! That Chopard necklace. It's so fucking fierce I die.
Despite the sexy sheerness of this Armani Prive dress, I ultimately thought it matured her. From the collarbone bone up it is a matronly look. I appreciate the risk, but I was not thrilled with this look.
So okay, I am really expecting great things from Cate the Great on Oscar Night, and she did not disappoint! Again from Armani Prive, this is a showstopper of a dress. I must admit, upon first glance I wasn't a fan. It is one of the few times that a look grows on me. For sure I loved the makeup, hair and earrings; but I initially thought this was too much of a nude explosion. Perhaps it was her kick-ass speech, but I really loved this look by the end of the night. Great silhouette, and somehow the dress doesn't wash her out. It's a winner!
Not too many misses at the Academy Awards. I actually think it was kind of a ho hum night. No big Highs or Lows. I thought Sandra Bullock, Jennifer Lawrence, Kate Hudson, were all beautiful but Snoozeville; certainly not Oscar standouts. Charlize Theron came close but something about those black horns kind of threw me off.
But things aren't fun until we have some misses. And for the record, I leave out Whoopi and Liza. Its just not fair right?
Something about Anne Hathaway in this Gucci dress drove me nuts. Maybe it's because someone needs to tell Ms. Smugface to put a bra on. Or maybe it's because the dress reflected like a disco ball when she was presented. Or maybe its because she is starting to look like
Andrew Garfield
in drag. (Hmmm.. never in the same room together?)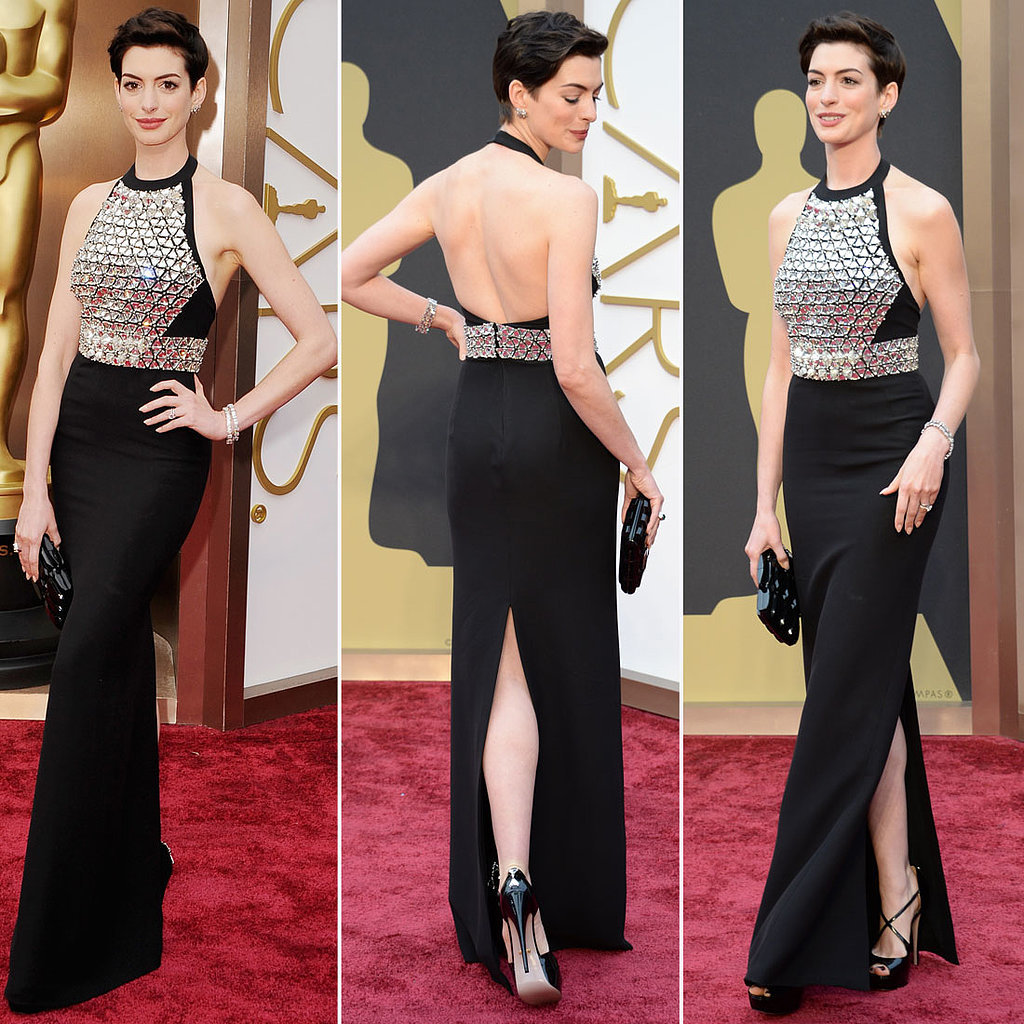 Give it a rest Fantine!



Oh Emma Watson...! What happened??? I don't feel like she is even trying here in this Vera Wang
Zzzzzzzzzzzzzzzzzzz.....
I am so bored by the rest I can't even go on.... Here's hoping everyone kicks it up a notch next year, sheesh!